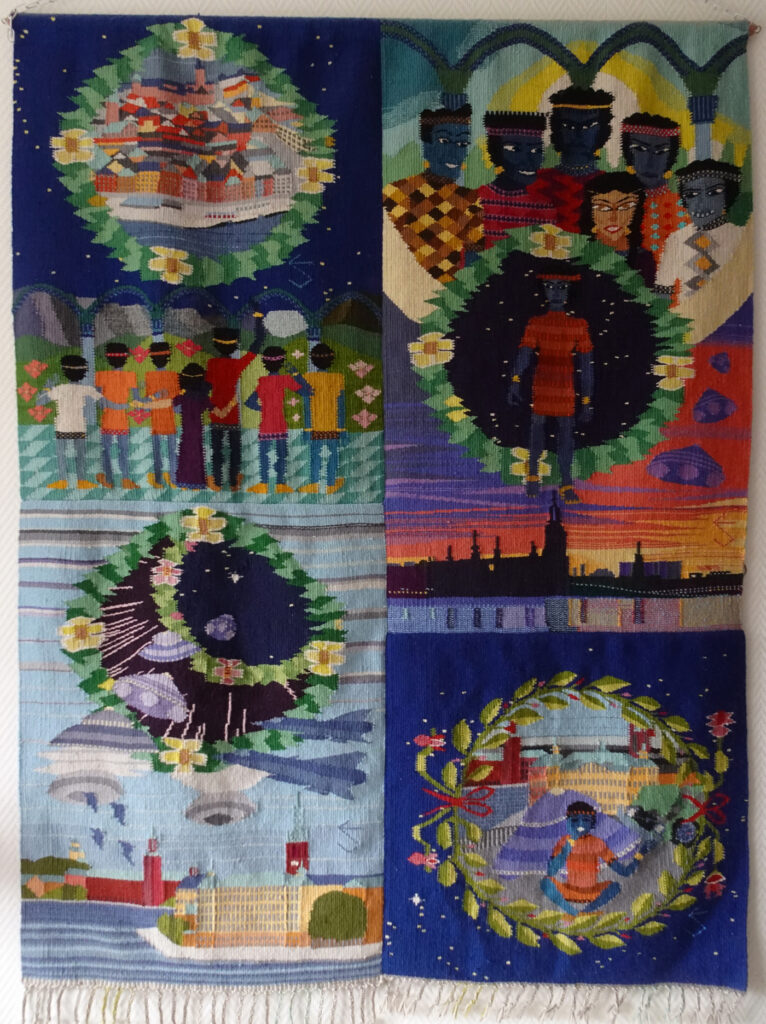 The story:
A rumour, probably originating from a well known New Age PhD, arose in 1995 about an ambassador from Sirius Solar System coming to our planet in 1996. Two cities competed for the doubtful honour of housing this being and his collaborators – Vancouver in Canada and Stockholm, Sweden. On the picture, you can see the clan leaders scrutinizing Stockholm through the star gate. The reason Stockholm was chosen, was, I believe, that the ruler Urian the Great didn't want to let his young high priestess Miara Kali have her ways, since she spoke warmly for Vancouver.
Then Wassar Tishtryia, nicknamed Washta, was chosen for ambassador. Nobody really wanted the job, but he was the youngest clan leader, newly appointed by the Kaksidi clan, since they didn't have a male heir.
On the picture you can see the different clan leaders: From left to right, Lazar Sothis dressed in yellow clown suit, Kali Kali, Urian the Great of Cibia and Sirian ruler, Miara Kali his high priestess, Marius Mazo and Damion Tishtryia. Poor Washta is on his way through the star gate.
When Washta and his crew began pouring in through the star gate above the governmental building of Stockholm, the military panicked and sent up an armada of airplanes to meet them.
Washta thought he had found the perfect flat space to land his saucer, namely the Essingen. Since that is a highway, a green Volvo immediately ran into him.
No wonder he didn't feel welcomed. So, instead of contacting the Swedish leaders, who had joined the political week on the island Gotland, anyway, he went straight back home.
Rumors said that the sirians would return on June 6, 2012. And Vancouver was next choice. If anybody knows anything about Washta arriving in Vancouver, please let me know.